COVID-19 AT THE END OF TIMES
October 14, 2019 in my article I announced: The end of 2019 and all of 2020 could be worse than that predict the forecasters with a possible major terrorist attack in the USA which would be planned to be carried out in Seattle November 3, 2019, when a global economic collapse was announced in a climate of the start of the World War.
We have not had a terrorist attack in the USA and so much the better. However, the Coronavirus appeared in China just after and it still causes more damage in the world today than an explosive or other attack.
It does not matter to us whether it was a criminal act, accidental or natural. What we must remember from this horrible pandemic is its eschatological impact
We have to see the truth, the world works by daily debts. Central banks are flooding the markets with fresh money every day with new lending.
The ruin and the bankruptcy are there, we simply refuse to open our eyes!
On November 12, 2019 , in my article I announced: « The Year 2020 will be worse than 2019 and when I say worse I should say horribly worse. Because 2020 is a special year. The pain should be terrible in every way. I am neither a seer nor a sighted person and therefore I can only tell you that we will continue to advance in darkness " .
We can safely say that the calamities that strike humanity every year since May 14, 1948 (date of the creation of the State of Israel) are increasingly strong, violent and devastating to the image of this little virus that causes thousands of deaths and condemns the planet to containment.
Again it is not the devastating effect of this virus, nor its origin that should interest us but its eschatological impact.
On March 13, 2020 , in my article I focused on the biblical prophecies planned for the end of time.
First  :Daniel'sprophecyon the statue of King Nebuchadnezzar's dream,
Second  : A letter from the apostlePaul:1 Thessalonians 3When men say: Peace and security, then a sudden ruin will surprise them.
Third  : The ten plagues of Egypt from the book:Exodus. In this article, I put in perspective the fact that 2019 was the year of the exhibition of the prophecies, in particular of the three that I have just mentioned.
2020 is therefore a very special year for humanity.
Socially  :Humanity is largely confined and no one knows for how long. Our global economy is already dead but artificially kept alive by daily injections of billions of dollars in additional debt.
At best, it will be necessary to reset the debt counters to zero, or even to postpone their repayments to the Greek calendars. It is through a new world order that our elites will propose to create a new world economy.
At worst, it will be through armed conflicts that the states will set up this new world economy.
Eschatologically  :we are Christians in 2020 visibly at the end of the end time process. We await the return of our Lord every day because all the signs and prophecies announce his imminent return. So despite the daily difficulties we must raise our heads and rejoice in his prompt return. Obviously we are in the very last pain.
The forces of evil are becoming more and more powerful. But our Faith must be even stronger because all these calamities are the best proof that our Lord Jesus Christ is at the door. Let us take advantage of these times of confinement to draw closer to God through prayer. Let us understand that everything must be accomplished but ask the Lord to protect us in this darkness.
Death lurks everywhere! But we know that Jesus Christ will soon come to take away his church. So let us remain confident and keep the flame of our Faith well lit. While waiting for the return of our Lord, many Brothers and Sisters may experience dark days in the pain of the loss of a loved one.
We know that from the beginning of this world, we are born, live and then die. But as Christians we know that upon his return Jesus Christ will bring back to life all his faithful servants who had left this world and that we too will be changed in an instant.
The year 2020 will be a special year as I had announced. So let us pray that this particularity will be for us Christians the removal of the Church of Jesus Christ before his physical return to Earth.
The COVID-19 seems to be the small stone mentioned in my article   THE LITTLE STONE which will make our civilization collapse
Before this Covid-19 virus kills all our Brothers and Sisters, Let's cry to heaven with prayer so that God will help us and decides to send our Lord and King Jesus Christ his only son very quickly to reign on Earth during the thousand coming years.
Pray that God Almighty Master of Heaven and Earth will shorten these pains so that the elect can be saved by our Lord Jesus Christ.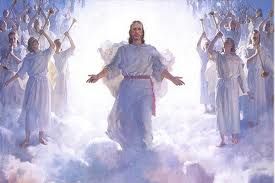 Amen.
Victor